Our CNC milling machines produce precision machined parts. Our CNC lathe with gang tooling allows rapid production runs for small parts. Our company's size allows for quick turnaround, attention to detail and great customer support.
Machining Services
CNC mills: 40 X 20 (with extended "Z" axis) and 30 X 15
CNC lathe gang tooling
EDM sinker tank size 25 X 30
Manual machines: Lathe, Mill Surface grinder, saws, drill presses, etc.
Welding: MIG, TIG, Stick, Aluminum
Fixtures & jigs
We are a job shop that focuses on customer's needs, quality, on time delivery and quick turnaround. We produce parts from a wide variety of materials: Stainless Steel, Brass, Tool Steels, Aluminum and more.
---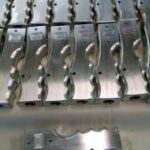 Just finished running 100 Custom Aluminum Laser Handles for company in Poulsbo that does Vibration…