We offer Press Brake Forming, 8 FT Shearing combined with a network for Electro Plating, Power Coating and Water/Laserjet cutting. We provide you with a finished part or a complete assembly.
Sheet Metal Services
Forming
Shearing
Cutting: Laserjet or Waterjet
Precision welding
We supply numerous bracket tabs, double sided sheet metal cabinet doors, interior cabinet electrical brackets, metal shelving, hangers and custom enclosures.
---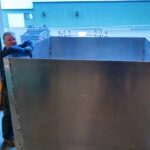 We just finished building this pellet feeder for a local fish farm on Bainbridge Island, Wa. The build included a trick sliding trap door that allows the operator to open…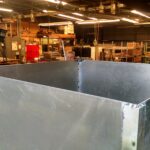 Built a large Aluminum Tank for a company on Bainbridge Island WA. Final size is 7' x 7' x 6'. It weighed about 800 lbs. The plates were sheared on…